A few weeks ago, The Burn told you about new retail spaces becoming available at Ashburn Crossroads, the shopping center that is often called Pipeline Plaza (where IHOP, Fuddruckers, Bertuccis and Potbelly are). Now we know the first new restaurant moving in there: The Halal Guys, a fast-growing NYC-based chain that specializes in American Halal dishes such as chicken and gyro meat with rice or in wraps. The recipe for its popular white sauce is a closely guarded secret.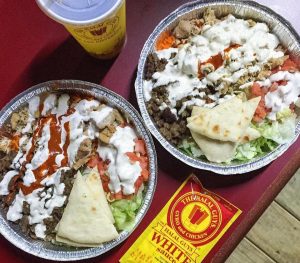 As we reported, a new building is under construction in between Bertucci's and the building that houses Potbelly and Starbucks. When the new building is up, Starbucks will relocate to a unit there that has a drive-thru window. The Halal Guys will be moving into the space currently occupied by Starbucks.
Right now, there are three Halal Guy locations in Northern Virginia, all in Fairfax County. Two more are preparing to open in D.C. And work is just getting started on a Reston location. The one in Ashburn will be the first in Loudoun, but the principles are already making plans for additional locations here.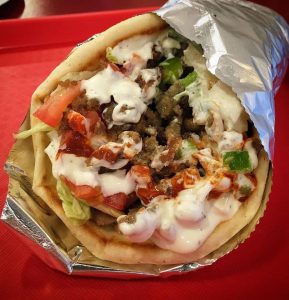 Believe it or not, Halal Guys got its start as a food cart in New York City in the early 1990s. While they still have their cart locations, today there are brick-and-mortar stores across the country in Florida, Illinois, Texas, Nevada, California and elsewhere. It has a large and loyal fan base and often attracts long lines at store openings. The word halal here refers to meat that is prepared according to Muslim law.
The owners hope to start renovating the Starbucks space late this year, and are aiming to open sometime in the first few months of 2018.