Parents of young children in Ashburn have a new child care option coming soon — and it looks pretty darn amazing. Children's Learning Adventure will open at One Loudoun on January 14 and feature activities not usually found in your typical day care center.
Children's Learning Center offers a large facility with multiple classrooms, laboratories and activity spaces. These include:
— a library and reading center
— a science lab
— an art room
— a make-believe play area
— a nature center where kids grow plants
— a hands-on kitchen for making snacks
— a outdoor playground
— a bowling alley
— a TV studio
— a computer lab
— an indoor basketball court and more
And there are age appropriate curriculums for each different learning and activity area.
The center has services for nearly all age groups — from infant and toddler care to pre-school programs, from after-school care to summer camps.
The Children's Learning Adventure in Ashburn will be its first location in Virginia. Across the country there are nearly 40 locations already open with at least another dozen under construction.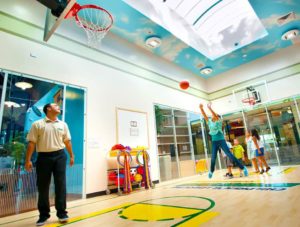 Children's Learning Adventure Virtual Tour