This Thursday, the final piece of Pacific Boulevard will formally open, linking with Russell Branch Parkway and creating a new way for Ashburn drivers to avoid traffic on Route 7 and State Road 28. The stretch includes a new bridge over Broad Run Creek.
Image: Google Maps
To put it in perspective, drivers will now have a "straight" shot from Claiborne Parkway in northwest Ashburn to the Cracker Barrel restaurant way down on Old Ox Road. This also opens yet another door in and out of Ashburn during rush hours.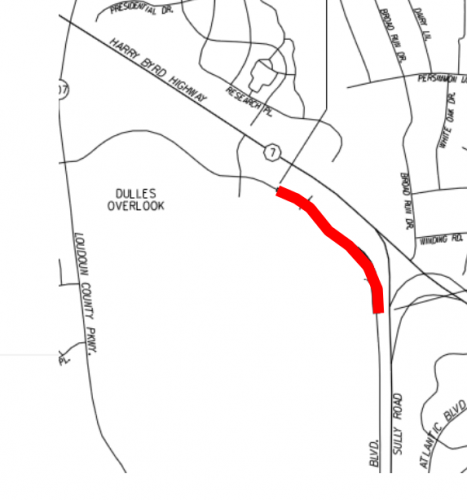 Imagine this journey with us — you set out on Russell Branch from the Belmont Country Club/Whole Foods/Claiborne Parkway junction. You parallel Route 7 going past Ashbrook Commons, past One Loudoun, past Top Golf. The road than becomes Pacific Boulevard as you turn south, paralleling 28, past the future Kincora development, past the fire station, cross Gloucester, south past the car dealerships, past Wegmans, past AOL and Raytheon, through the industrial area and pop out on Old Ox right by the Cracker Barrel.
Map: Google Maps
The formal ribbon cutting on the Pacific Boulevard Extension is scheduled for 2 p.m. Still waiting on word as to exactly what time the road will open to traffic. Hopefully in time for the evening commute into Ashburn.
Images: Kincora