In true farm-to-table fashion, the Copperwood Tavern at One Loudoun celebrates all things local and all things Virginia — and the result is one heck of a dining experience.
From the classic rock playing overhead to the Mason jar water glasses, Copperwood is paying homage to simpler times in rural Virginia while offering a menu that is throughly modern and creative.
The Burn started out trying two of Copperwood's signature cocktails — the Bourbon Thief, frothy with an egg white, and the Walkin' After Midnight, a kir-style fluted cocktail with Blackberry moonshine and elderflower liqueur. Sweet and refreshing.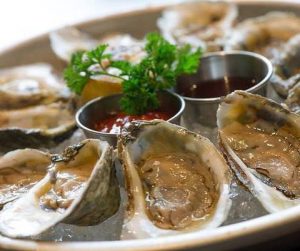 The chilled Rappahannock oysters went down smoothly topped with a dash of apple mignonette and tangy cocktail sauce. (The tavern has the oysters delivered fresh and goes through more than 2,000 a week.) A flaky lump Crab Cake served with a cornmeal crusted tomato and tangy remoulade perfectly hit the mark.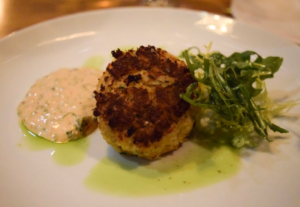 A pink-centered Filet Mignon with a bit of bourbon and a green peppercorn sauce and Braised Rabbit with carrots, pearl onions and hand-cut wheat noodles made for hearty, homespun entrées.
The Burn's bonus tip — don't miss the ancho chili braised Short Rib small bite served on a bed of creamy grits. The meat was fork tender and the grits were perfection.
To wrap up the evening, we sacrificed our New Year's resolutions and tucked into a huge slice of Triple Chocolate Mousse Cake.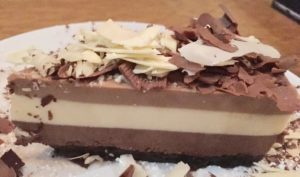 Nearly everything served at Copperwood Tavern — from the meats to the vegetables to the oysters — is locally sourced from nearby farms and fishermen in Virginia and surrounding areas. You can taste the freshness in the food and it helps make a meal at Copperwood Tavern all the more memorable.