Starbucks is going all in on Ashburn with at least four drive-thru locations under construction as we speak. Heck, there could be more that we haven't found yet.
In Ashburn's worst-kept secret, today The Burn finally confirmed that the "mystery drive-thru" at One Loudoun will indeed be a Starbucks. The location — with its striking roofline (seen in photo above) — sits across the street from Eddie Merlot's near the center's entrance and will be a nice addition both for shoppers and walkers, as well as commuters coming on or off of Route 7.
Meanwhile, a new drive-thru Starbucks is being constructed at Pipeline Plaza next to Bertucci's Italian Restaurant. The current Starbucks there is sans a drive-thru and will move a hundred yards or so to the new building.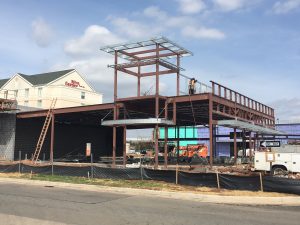 Meanwhile, a Starbucks is going up at Loudoun County Parkway and the Greenway at a new small development dubbed Greenway Crossing. While the drive-thru at this location is already clearly visible, The Burn is a little suspicious of this one. We've only heard about the Starbucks, but that is a darn big building for just the coffee house. We can't help wonder if a second retailer may also be moving into the space. Full disclosure: that's just us speculating.
Finally, as The Burn has reported previously, the word on the street is that the recently demolished Safeway gas station at the Broadlands Village Center will soon see a drive-thru Starbucks rise there too. We've heard it from several reliable sources, but so far the landlord won't confirm it.
Adding drive-thru windows to area Starbucks is clearly a priority for the company. The Starbucks location at Ashbrook Commons off Route 7 has one and it's always busy. The Peet's Coffee & Tea at Brambleton Town Center also has a drive-thru and there's probably others in Ashburn we're forgetting.