After more than two weeks of waiting for a response from Loudoun County Public Schools, Monday The Burn received a semi explanation for the oddly shaped "expanded school walk zone" that has much of Broadlands buzzing. The new walk zone would have students walking up to a mile or more to Eagle Ridge Middle School and they would have to pass by houses closer to the school whose children are getting bused.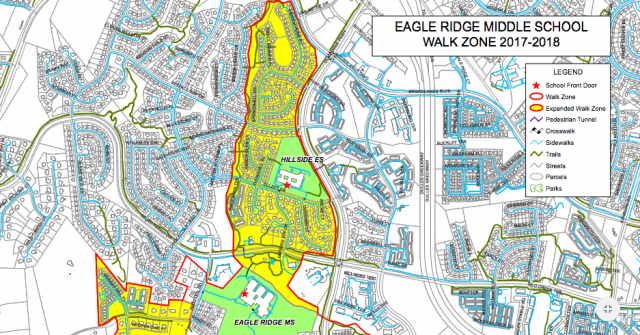 Here is the LCPS response:
"As a practice, staff does not address blanket questions regarding walk zone decision as each student's walk path will differ based upon location and preference.  As a general rule, School Board policy establishes the parameters of one (1) mile for elementary and one and one quarter (1.25) miles for middle and high school. Distances are measured from school front door to student's property.  The distances are measured along paths and walk routes and therefore do not create circular patterns around the school.  The 2017-18 walk zone differs due to the installation of a pedestrian bridge located between school property and Waxpool Road that allow students to access the school whereas in previous years this path did not exist.  Staff will continue to evaluate all walk zones and adjustments will be made annually."
The statement still doesn't explicitly explain why children at the northern end of the walk zone will have to walk past dozens and dozens of homes closer to the school where kids are getting bused. However, the statement appears to be saying that the nature path in the Broadlands leads directly to the new pedestrian bridge to ERMS, making this a more direct route for students who live east of the path. But many parents would likely argue with this logic. Concerns expressed on social media include the safety of children walking on a wooded path that is not always visible to surrounding neighbors and the fact that the nature path is not always cleared of snow in a timely manner.
Apparently, the school district is taking the many complaints from Broadlands families seriously. In an email sent to some parents Monday, the district will have a representative meet with concerned residents on Tuesday at 1 p.m. at Eagle Ridge. Questions will be answered and the  route will be walked as a group.