Yes, we have foxes all over Ashburn, and no, there's nothing that unusual about this photo. But we thought it was cool so we're sharing it.
According to Ashburn resident Steven Harris, this (apparently) female fox has been occasionally spotted around the Belmont Ridge Road/Hay Road area — often with two kits in tow. The kits are said to be nearly full-grown now.
This past Saturday, around 11 p.m., Mama Fox boldly climbed up Harris' patio steps, as seen in this image captured by one of his security cameras.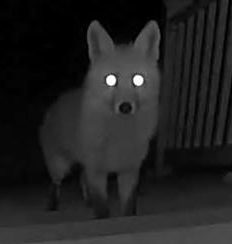 We have both Red Foxes and Grey Foxes in the area. Hard to be certain, but we're pretty sure that's a Red Fox in the photo above. (Or a tall Corgi.)
Loudoun County officials say there are foxes in most Loudoun neighborhoods and they are usually harmless to humans, unless they're rabid, which is rare. Still, you don't want to try and pet one. The More You Know. (Cue star and rainbow.)
(Thanks to Steven Harris for the photo at top.)