Basil Leaf Grill, a Mediterranean fast casual restaurant at Loudoun Station, has closed its doors. The Burn got the news Friday afternoon that they were closing down as of 5 p.m. after more than two years in business.
Basil Leaf Grill was similar in style to Cava, in that you customized your meal — selecting your base (rice, salad, etc.), your protein (steak, chicken, ground beef, shrimp, etc.), your toppings and your sauces. The restaurant was the brainchild of chef Reza Monsefan, who was often found behind the counter greeting guests himself.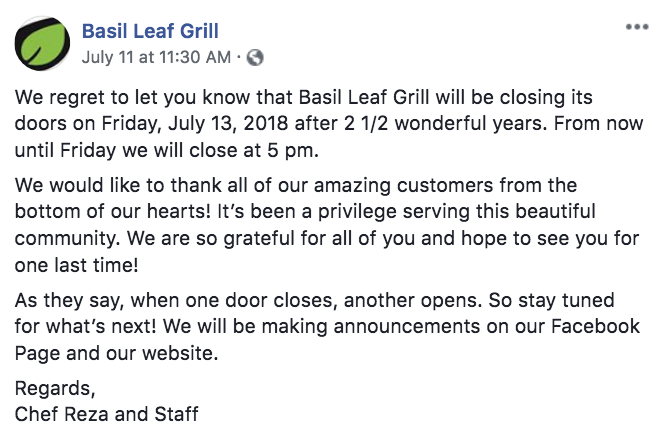 The store posted a farewell notice on social media, their website and the front door. It indicates Monsefan is already working on future restaurant ideas. Meanwhile, it's too soon to know what might replace Basil Leaf in the space at Loudoun Station.
(Thanks to reader Jordan Greene for being the first one to send us this news tip.)