(The Burn is pleased to share this article from our partner publication, Ashburn Magazine.)
By Christin Perry
Detour. It's a word that's become synonymous with Waxpool Road in Ashburn. Over the past few decades, drivers on Waxpool Road have dealt with lots of detours as Ashburn boomed and work crews made subtle but significant changes to the road's path. But a closer look at Waxpool's historic route uncovers the Ashburn of old and life during the community's rural beginnings.
"The [road] is a living thing. It changes as land uses change and communities develop," said Jim Zeller, deputy director for the Loudoun County Department of Transportation and a resident of Ashburn Farm. "But there are remnants of life as it used to be, as long as you know where to look."
THE ROAD
Historically, Waxpool Road was part of a continuum of old farm roads that stretched across much of Loudoun — Church Road to Waxpool Road to Mount Hope Road and beyond.
A little stretch of Ruritan Circle in Sterling Park may be the last vestige of Waxpool's easternmost point, where it blended into Church Road near the old W&OD railroad line and continued east.
Roughly six miles to the west at Belmont Ridge Road, Waxpool Road ends as the route cuts south a few hundred feet on Belmont Ridge and became Mount Hope Road, crossing Goose Creek over a small steel truss bridge, and connecting with Evergreen Mills Road. Of course, this stretch is gone. Today, most of Mount Hope Road and the remnants of the bridge are hidden under the dark waters of the Beaver Dam Reservoir.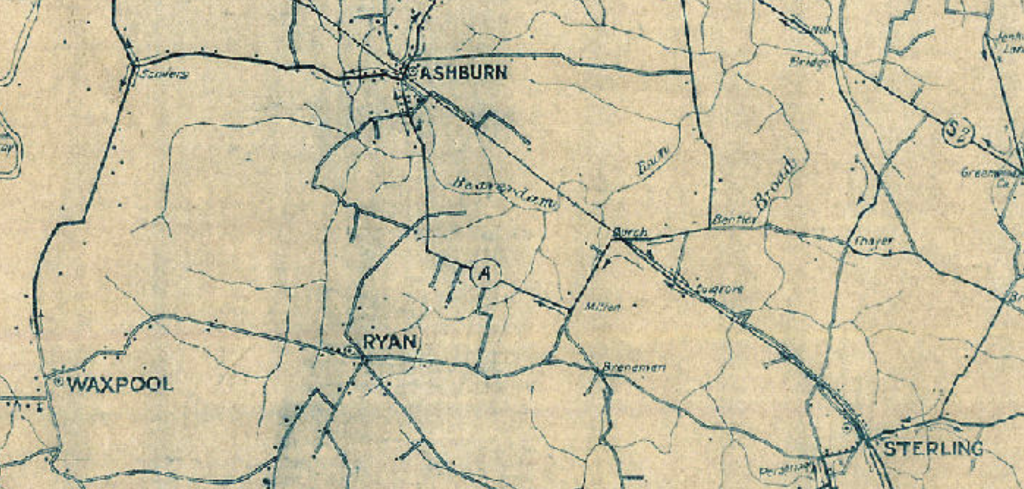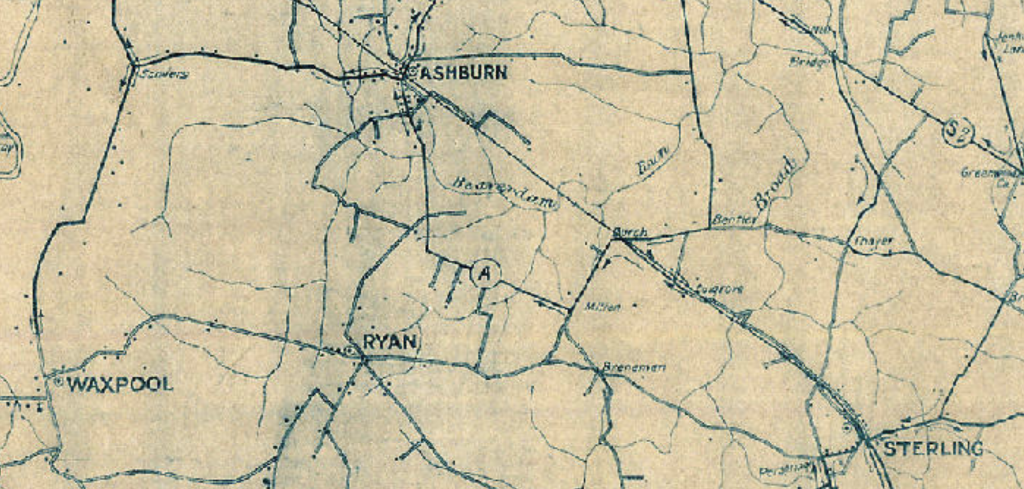 THE NAME
The old community of Waxpool used to be located in this area — near where Tillett's Auction Barn is now. In the mid-20th century, Waxpool had its own general store and a post office (which is preserved and on display at the Heritage Farm Museum in Sterling).
There were several farms in the area as well and old-timers referred to the clay-like soil as "wax land." (The soil was also sometimes called "blackjack.") Water drained slowly on this thick soil and often pooled up after a rain. And that was the birth of the unusual name Waxpool.
THE ROUTE
Today, transportation officials say Waxpool Road has eight different segments. The road is anything but straight, veering off in a series of bends and sharp turns that prove confusing to new drivers and residents alike.
Take the intersections of Waxpool and Truro Parish Drive, Waxpool and Faulkner Parkway, and Waxpool and Farmwell Road. At each point, the road takes something akin to a 90-degree turn. In most communities, that would mean you were turning onto a new road. But not in Ashburn.
Why these bizarre configurations?
Simple — the developers of today's mega-neighborhoods, such as Ashburn Farm and the Broadlands, wanted large roads that would make accessing their communities easy. This was key to attracting home buyers. So old farm roads were widened, expanded and sometimes "bent" to intersect properly with new roads.
Believe it or not, Waxpool Road still follows its historic path pretty closely. In most cases, those 90-degree turns were just added where Waxpool met with a new road. In some cases, the odd bend was even part of the original path. Zeller says roads often followed property lines back in the day, something still common in the more rural western half of Loudoun.
And through all those changes and additions, the name Waxpool was preserved for the entire stretch.
"Waxpool Road had been around since at least the mid-1800s, if not earlier," Zeller said. "It's part of the county's heritage. It would be kind of a shame to replace these names with the more generic names you see in modern subdivisions."
In 2018, the last gravel segment of Waxpool Road — just east of Belmont Ridge Road — was paved and then closed as part of the construction on the new Waxpool Elementary School, which welcomed students in August 2019. Traffic was redirected through nearby neighborhoods for nearly a year — just the latest detour in Waxpool Road's long and winding history.
— Christin Perry is a freelance writer in Ashburn who has written for The Bump, The Knot, Scary Mommy and other publications.
To read more great stories about interesting people and places around Ashburn, check out the Ashburn Magazine website here.