(The Burn is pleased to share this article from our partner publication, Ashburn Magazine.)
ADDICTED TO THE JOB
By Chris Wadsworth
It's not every person who has a career with three distinct acts — but Ashburn resident Steve Murphy isn't just anyone. A veteran law enforcement officer, Murphy, 63, has been a small-town cop in West Virginia, a storied overseas agent with the Drug Enforcement Administration and, now, an author and in-demand public speaker who travels the world talking about his role in the hunt for kingpin Pablo Escobar.
Perhaps most noteworthy — Murphy and his DEA partner, Javier Peña, were the focus of the first seasons of the hit Netflix series "Narcos." (That's Murphy in the photo above, second from left, with Peña and the two stars of the show — Boyd Holbrook and Pedro Pascal.)
Ashburn Magazine spoke with Murphy from his Broadlands home about his fascinating career. Here are excerpts from our conversation.
CHILDHOOD
Murphy was raised in Murfreesboro, Tenn., the son of a Baptist minister and a bank bookkeeper. An early run-in with a kindly police officer helped set Murphy's future path.
"When I was a young kid in Tennessee — I'm guessing about 10 years old — my buddies and I were camping out in the summer … and you stay up late, and after everyone goes to bed, we get on our bikes and ride through the neighborhood. We thought we were little tough guys, and there was a little store with a laundromat that stayed open all night and we wanted to go get a soda and some peanut butter crackers … and none of us had any money, so we decided to break into one of the guys' houses. We were 10 years old, so I'm sure we really botched things up because the next thing you know this spotlight comes on and two police officers approach us. And just scared the crap out of us. We thought the world was over. And the cops are standing there, and they say, 'Boys, we can take you to prison for the rest of your lives or we can take you home to your parents.' And we looked at each other and said, 'Take us to jail.' We knew what our parents would do. The cops laughed … and took us home to our parents. And I never had that problem again. And that … stuck with me and ever since I was little kid, I never wanted to do anything else but be a cop."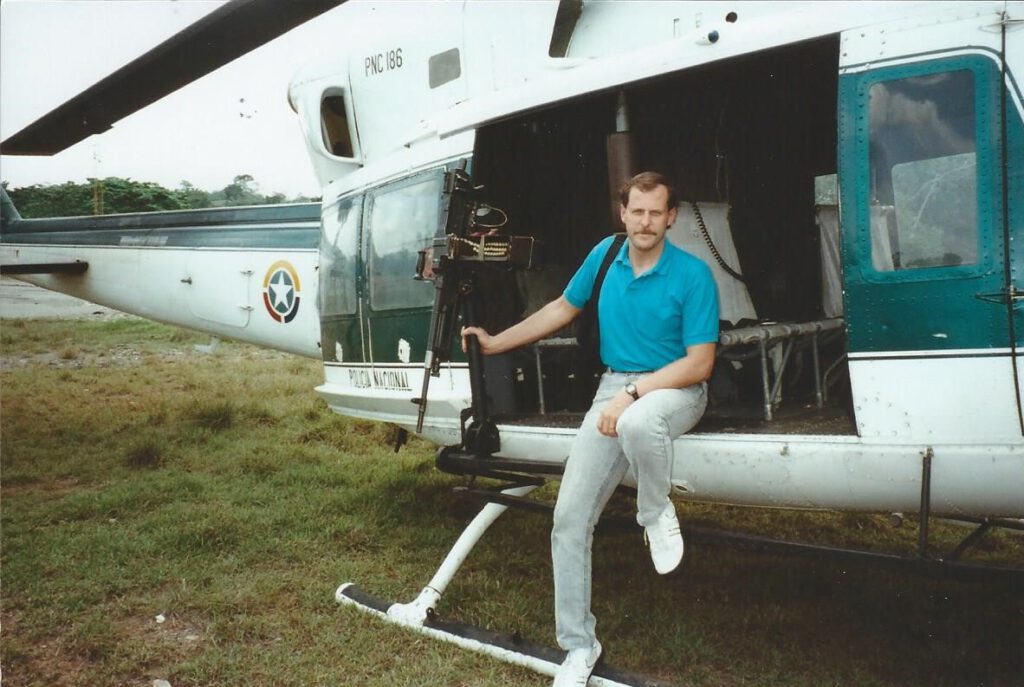 SMALL-TOWN COP
Murphy's family eventually moved to West Virginia — where his parents had grown up. Murphy attended Bluefield State College and, while his dad thought he was studying business, in the summer of 1975 he actually enrolled in the criminal justice program. Thanks to rules at the time, Murphy started working as a police officer at just 19 years old. A fan of the police-themed books of Joseph Wambaugh and the landmark book "Serpico," Murphy always dreamed of working somewhere bigger than Bluefield. A small-town pot bust proved to be another turning point in his life.
"We had a friend who was running a gas station, and he said, 'Hey, there's a kid running around here selling a pound of marijuana.' Back in the 1970s, a pound of weed in southern West Virginia was a lot of dope. So we had the gas station guy order it up and sure enough, this 17-year-old shows up with a pound of weed and we step out of the back room and arrest him and do the dope test — and I just loved that narcotics part of it. We ended up cutting the kid a break. Just a few weeks ago … I got an instant message from a guy … and it was the kid we picked up with a pound of weed. He said, 'You scared me to death back then, but you made a major change in my life. Now I'm a successful businessman and I tell people all the time that you're the guy that arrested me — the guy from "Narcos," but no one believes me.' I answered him back and all these years later, we've kind of gotten to be friends."
DRUG ENFORCEMENT AGENT
Murphy moved on from being a local cop to being a police officer with what today is the Norfolk Southern Railway. His interest in narcotics investigations grew during this time, and, in 1987, he went to work for the DEA. His first assignment: Miami, ground zero for the international drug smuggling scene in the 1980s.
"When I got to Miami, I had been a cop for almost 12 years. The most powdered cocaine I had ever seen in my life was 2 ounces. The  first deal I got to work on undercover in Miami, we took a 53-foot Hattaras Sportfish — one of those fancy fishing boats with hidden audio and hidden video — to the Turks and Caicos Islands, which I had never heard of. To make a long story short, when they finally flew the dope in, they brought in 400 kilos, so I went from 2 ounces to 880 pounds of coke. It was one of the most exciting things I had ever done in my life. Talk about addiction — I was addicted to the job at that point."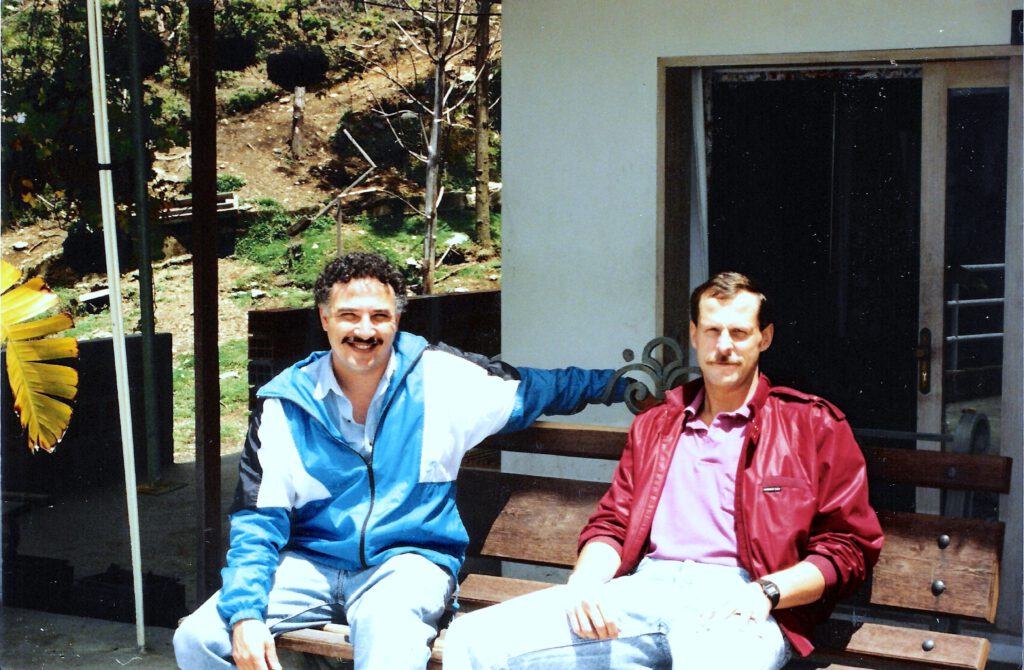 THE HUNT FOR ESCOBAR
In 1991, Murphy and his wife, Connie, decided to take a leap and accept a transfer to Colombia — the home of Pablo Escobar, boss of the Colombian drug trade. As luck would have it, Escobar turned himself into authorities mere days after Murphy arrived in the country. Murphy and his pals joked that Escobar gave up because he heard Murphy had arrived. Of course, Escobar didn't stay in prison long. He escaped in 1992 and the hunt was on again — with Murphy and Peña giving chase.
"[Escobar] had put $300,000 price tags on each of us. We intercepted phone calls — back then they were radio telephones — and we have recorded phone calls where he referred to the 'two gringos.' In one phone call, he even mentioned the names Peña and Murphy. That was a little disconcerting — that he actually knew what your name was. 
"The biggest threat was the indiscriminate car bombs that Pablo was just setting off everywhere. There was one night — we had been on operations all day — and we got back to the base and grabbed some dinner. The city of Medellin is built in a bowl. We were on one side of the bowl and you could look across the valley to the other side and that's 'Barrio Pablo Escobar' out there, but at nighttime with all the lights, it was beautiful. I'm out there with a couple of guys, just drinking a beer and talking, and we heard 17 bombs go off that night. That's how many bombings there were just that one night."
Murphy and Peña spent 18 months, side by side with the Colombian National Police, chasing Escobar. Days were spent flying on Huey gunships or racing through mountain roads, following up on leads, interrogating Escobar associates and tracking his moves.
On December 2, 1993, Escobar was holed up in a downtown Bogota hotel. Many of his lieutenants had been killed or arrested in the ongoing wars with both the Colombian police and an anti-Escobar vigilante organization. On that date, Escobar got sloppy while talking on a radio phone with his 17-year-old son.
To find out how the raid on Escobar's hotel room went down, as well as how Murphy's and Peña's careers got turned into the hit Netflix show "Narcos" — click here and read the rest of the story over on the Ashburn Magazine website.