Macy's, the iconic department store brand, is actively looking to lease or sell large chunks of its parking lot at the Dulles Town Center in Sterling so the land can be used for other purposes. It's part of a company-wide trend to deal with the ever-changing retail scene.
A marketing brochure delineates three large pieces of the parking lot at the Sterling mall. One parcel is a full acre. Two others are 3/4 of an acre. They all border on Dulles Town Circle, the perimeter ring that encircles the shopping center.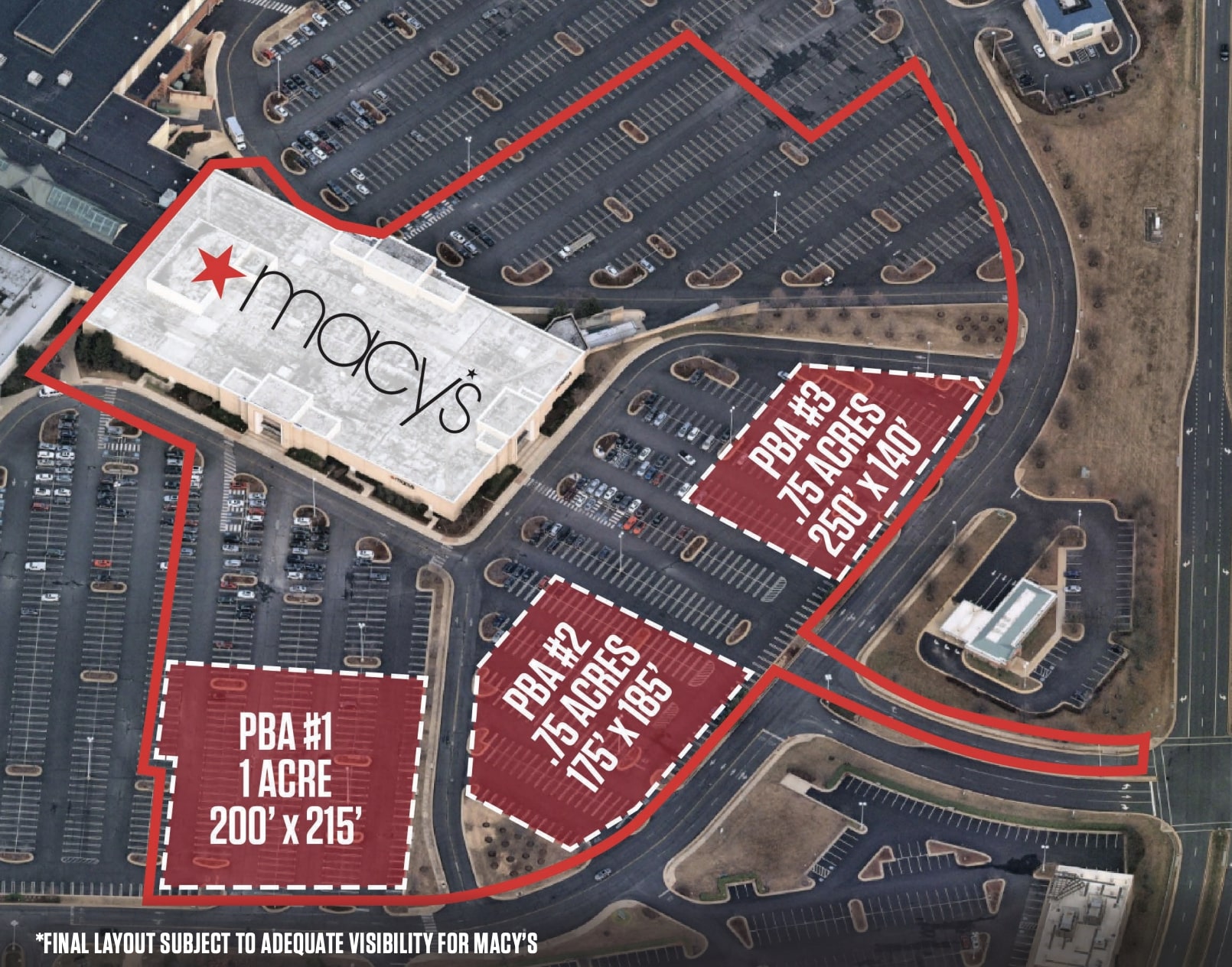 You may wonder how Macy's can offer up this land when it's part of the Dulles Town Center. It turns out the department store brand owns the Macy's building and a large swath of the parking lot. This is actually not unusual at shopping malls where many of the big anchor buildings plus parts of the parking lots are not owned by the mall, but by the stores themselves.
As many people have heard, even before the coronavirus pandemic, many shopping malls were seeing fewer shoppers and more store vacancies as people turned to online shopping. Many large department store brands have been struggling with these changing trends as well. And COVID-19 certainly didn't help shopping malls.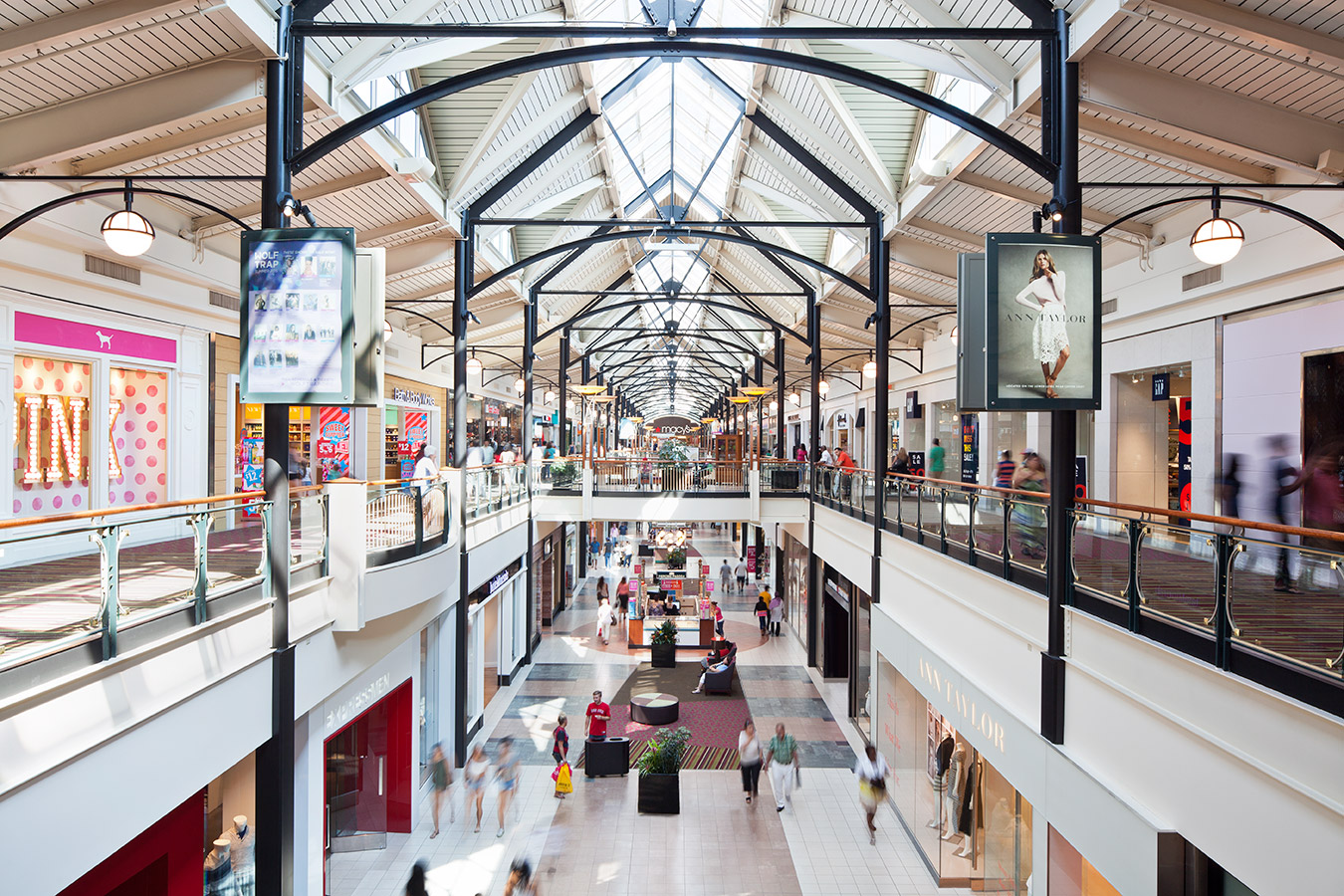 As the website ModernCities.com reported, the rise in online shopping along with a rise in ride sharing services like Uber have led to a decrease in the need for huge parking lots at malls. Many of the spaces sit unused nearly all year around. And large retailers are looking ahead to a future with self-driving cars and realizing the need for huge parking lots will only continue to diminish. Thus the move to get rid of some of this unneeded land — it plans for the future and helps balance the books today.
The Burn reached out to Macy's – which first announced plans to reevaluate parking lots back in 2017, well before COVID-19 – to try and get an idea of what types of uses we could see on this land at the DTC Macy's.
"Macy's is continuing to execute on our real estate strategy that is focused on creating value through monetization and, in some cases, redevelopment of our assets. We are marketing these outparcels to be converted from underutilized parking into real value for our customers and community," said Jacqueline King, Macy's Director of Media Relations, in a statement.
While there is no official word on what these Macy's parcels could become, it seems almost anything is on the table. Some possible suggestions include restaurants and car washes. Other ideas happening elsewhere include drive-in theaters. Some have suggested that residential units and offices could go up in parking lots in an attempt to turn the traditional indoor shopping mall into more of a "lifestyle center" where people live, work and play all in one walkable area. Local examples of lifestyle centers include One Loudoun and the Reston Town Center.
"It's very safe to say that we absolutely are interested in looking at ways to maximize that important area there," said Buddy Rizer, the Executive Director of Economic Development for the county. "By and large, we do think there is an important mixed use and retail component that can be built around the Dulles Town Center. That area round Route 28 and Route 7 is one of our most important intersections."
Besides its parking lots, Macy's stores nationwide are also said to be exploring shrinking the store space in multi-story buildings and leasing out some floors for other uses. There's also talk of allowing restaurants to build on the exterior of Macy's buildings or — at one location — even opening a bar and restaurant on the rooftop of a Macy's building.
Meanwhile, the former Nordstrom and Lord & Taylor buildings at the Dulles Town Center sit empty. While there is no word on what might become of these spaces, some commercial real estate brokers and landlords nationally are in talks with Amazon and other online retailers to use former department stores as "last mile" distribution and fulfillment centers. In other words, if you order something online for same-day delivery, it might only have to come from a nearby distribution center that used to be a department store.
(Image at top: Google Maps)