Obviously, there are many places to get the various coronavirus vaccines in Loudoun County. But one of the biggest locations is probably the Loudoun County Health Department's vaccination center in the former Nordstrom department store at the Dulles Town Center shopping mall. The empty main floor has been re-purposed into a speedy, efficient vaccination clinic.
Thousands of local residents have already gotten their shots at the Nordstrom, and thousands more have appointments in the weeks ahead. For those who haven't been through the process yet, The Burn wanted to give you a brief walk-through.
First, you register online and wait for to receive an email from the CDC that you are up. You then follow a link to register for the VAMS system, which stands for Vaccine Administration Management System. Once in, you create your appointment. You are sent a confirmation with QR code.
At the appointed day and time, you arrive at the Nordstrom at the DTC. Large electronic signs direct you to the parking lot. You are briefly stopped in front of the entrance and asked a series of questions to make sure you are not sick at the moment.
Once you enter, you are guided down a long series of "corrals" — basically plastic posts with caution tape strung between them. Markers on the floor keep you distanced from the people in front and behind you.
When you get to the front of the line, you are directed to a one of a handful of check-in desks, where they confirm your appointment, your name and your birthdate. You are then given a small, white card labeled "COVID-19 Vaccination Record Card." From there, you proceed to another line with a shorter series of corrals.
When you get to the front of the next line, you are sent to a specific station — such as G-5 — where you are greeted by a medical professional who is going to administer your vaccine. They re-confirm your name and birthdate and tell you which vaccine you will be receiving — Pfizer, Moderna or Johnson & Johnson. They also ask additional questions about things like allergies, reactions to past vaccines, whether you have had a previous COVID infection and whether you are pregnant. They may set the syringe on a small tray in front of you, before you roll up your sleeve and they administer the shot. They then hand you back your card, which now includes a notation of the vaccine you received, the batch number, the date, etc. And they will tell you how long until you need to return, if applicable.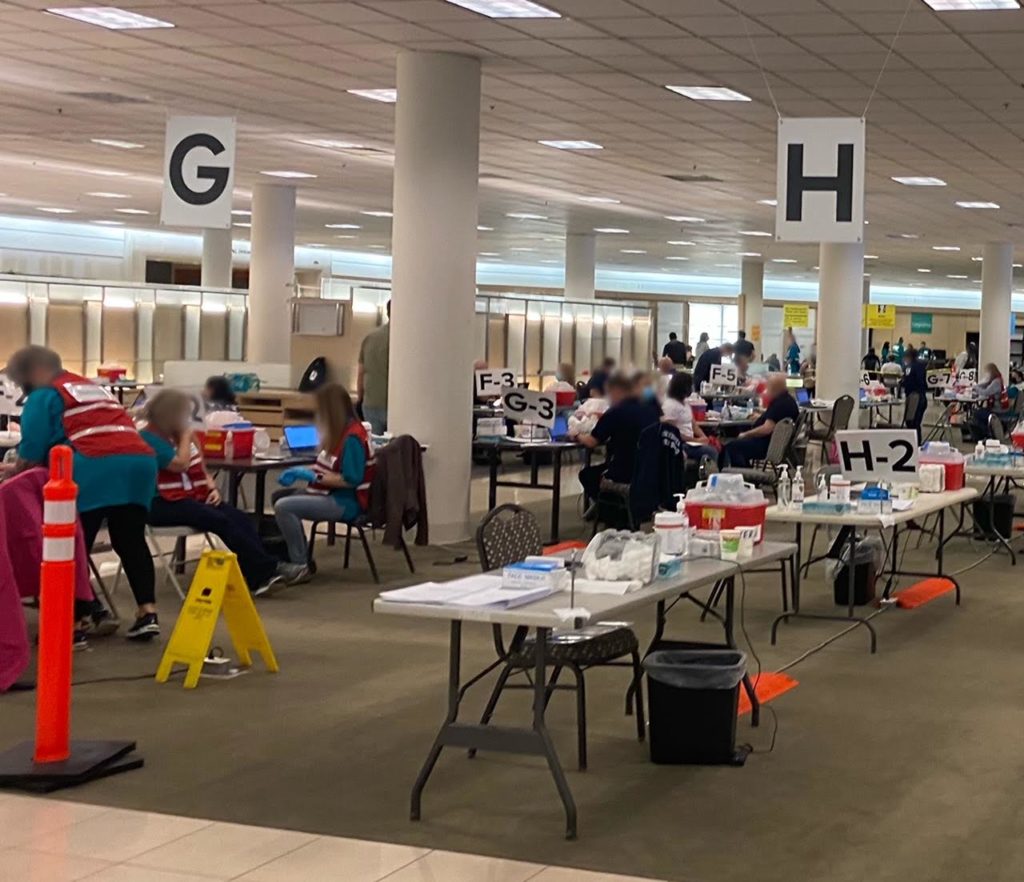 The Johnson & Johnson vaccine is a single dose. The Pfizer vaccine requires a second shot after 21 days and the Moderna shot requires a follow up shot after 28 days.
Once you've received your shot, you are sent to a waiting area. You will be assigned either a 15-minute wait or a 30-minute wait depending on your medical history. This is to monitor people for any immediate adverse reactions. You self time yourself, and once your waiting time is up, you get up and exit out a different door from the one you entered. The entire process moves very quickly.
If you received a vaccine that needs a follow up visit, you will receive a notice via email or text, for example, with a link to make the appointment for your second shot.
"Overall it was a very positive experience," wrote one person who got the vaccine at Nordstroms, in an email to The Burn. "The volunteers all showed incredible work ethic and empathy. I was really blown away by how well it was run. I expected it to be like the DMV and instead it was as well run as a Chick-fil-A drive-thru."