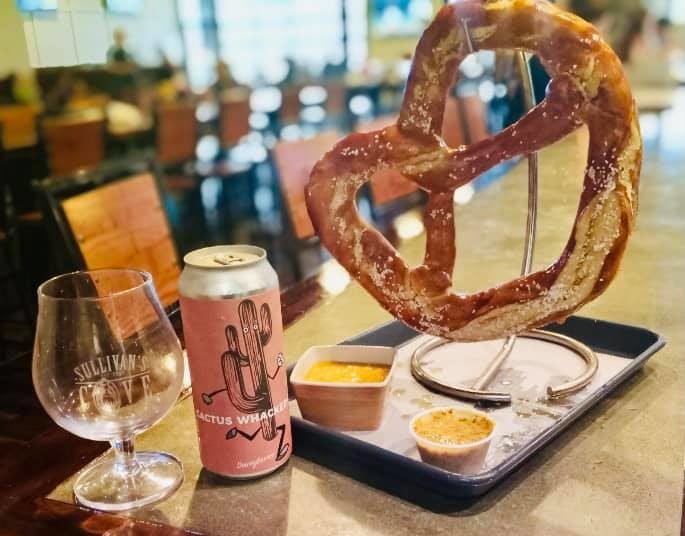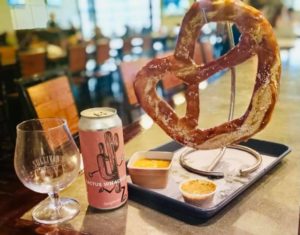 A popular bar at One Loudoun is getting a major makeover and will be reborn as Sullivan's Cove, a scratch kitchen restaurant focused on great food. But don't worry — the 50 taps pouring beer and wine will remain.
We're talking about the current Jefferson Ale House, previously known as One Loudoun's World of Beer location. The bar and restaurant sits at the corner of Exchange Street and Brimfield Drive, next door to the Barnes & Noble bookstore.
The transition to Sullivan's Cove will include the installation of new patio doors that will bring the outside in and a major facelift with new lighting, paint and other decor features. Most importantly, there will be a new menu.
The owners tell The Burn they will be offering a scratch kitchen — meaning everything will be prepared fresh on site. "Every single thing will be made in house other than French fries, tater tots and the big pretzel," said Sean Martin, one of the principals. The big pretzel is a holdover from the current incarnation and one of the most popular things on the Ale House menu.
Sullivan's Cove already has one location in Severna Park, Maryland and the menu at the new One Loudoun location will be very similar, but with a few additions. The menu will feature a long list of appetizers — what they call "kitchen snacks." The current Sullivan's Cove menu includes calamari, candied bacon, and duck fat fries.
They will also serve entrees, things like Steak Frites and Shrimp & Grits, as well as sandwiches, salads and burgers, and more. You can see the Maryland location's menu below to get an idea of what is in store for Loudoun area guests.
And as we mentioned, the current bar's 50-tap beer and wine line-up will remain intact and there will be a full bar and cocktail menu as well.
Getting new fixtures and kitchen supplies is a bear right now thanks to pandemic-induced slow downs of supply chains, but if the current schedule stays on track, the team at Sullivan's Cove hopes to be ready to unveil the new concept sometime in November.