BKD Bagels, the new bagel shop that just opened its first brick-and-mortar location in Leesburg last week, isn't done yet. The Burn has learned the group of entrepreneurs behind the brand has signed a lease for a second location in Purcellville.
The new restaurant will be coming to the Purcellville Gateway shopping center. That's the Harris Teeter-anchored center at the corner of the Berlin Turnpike and East Main Street.
BKD is taking over the 1,800 s.f. freestanding building that was left vacant when Mediter-rustic Cuisine closed in August. That's in between the Pet Supplies Plus store and the small pond on the property.
As regular readers know, BKD Bagels just opened their first retail location last week at 105 South King Street in downtown Leesburg. They started a soft opening on Thursday and it's continuing this week. (You can see all our previous coverage of BKD here.)
BKD was originally a purveyor of small batch bagels that they sold online and customers either got them delivered or picked them up. After a year or so of this model, the BKD team decided to take the leap into their first storefront.
They took over an old house in Leesburg that had previously been the home of Bites, a restaurant that specialized in grilled cheese sandwiches. In its first weekend in business, BKD saw lines down the street.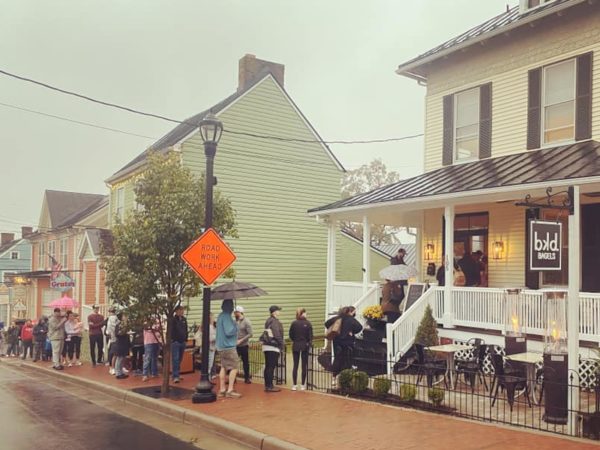 The business model sees the shop offering breakfast and lunch hours, with a menu made up of handcrafted bagels, bagel breakfast and lunch sandwiches, and a build-your-own-bagel option as well.
Now before the confetti has even settled to the ground from the opening of that first location, they've already got a second location in the works. We're told if all goes smoothly, they hope to open the BKD Bagels in Purcellville in early 2022.