Aimee Taylor is a miracle worker. There's just no way around it. The resident of the Broadlands in Ashburn is a marketing consultant by day and a wife, mother and grandmother all the time. But it's what she does in her free time that is so amazing.
In October 2019 she started picking pieces of badly worn or damaged furniture out of people's trash and then repairing and restoring them in amazing ways. From there, she donates the items to the local ReStore, a shop run by Loudoun Habitat for Humanity that raises funds for the organization.
"From the start, I have only taken free furniture — trashed and on the curb, or pieces donated to me," Taylor said. "I do pay for my own supplies, although sometimes people donate those too."
Taylor dubbed her efforts Finished For Good and started posting about her work and her miraculous makeovers on Facebook. As of this writing, she has refurbished 46 pieces of furniture and décor that otherwise would have wound up in a landfill — and has helped raise money for a good cause to boot.
"We love what she's doing," said Kristen Wolfe, the manager at the ReStore in Leesburg. "Each piece has its own story behind it, and they sell like hotcakes."
And Taylor is always looking for ways to expand and grow what she's started.
"I'm at the point now where I don't have the room to store things — friends have called me when they see pieces at the curb, and I don't always have the space to store them so the trash truck gets them," she said. "There is an opportunity to take this initiative further, but I don't have the resources, know-how or time to do so. Maybe someone out there does."
The Finished For Good postings on social media are written with such charm that we are sharing some of them here. You can follow Taylor's furniture adventures at www.facebook.com/finished4good.
THOR
"A friend spotted a Facebook listing for a free dresser. When I went to pick it up, the kind man told me that if someone hadn't taken it, Thor would have had at it. I looked up in confusion to see him holding his hammer, which he explained was called Thor. (See, I'm not the only one who names inanimate objects.)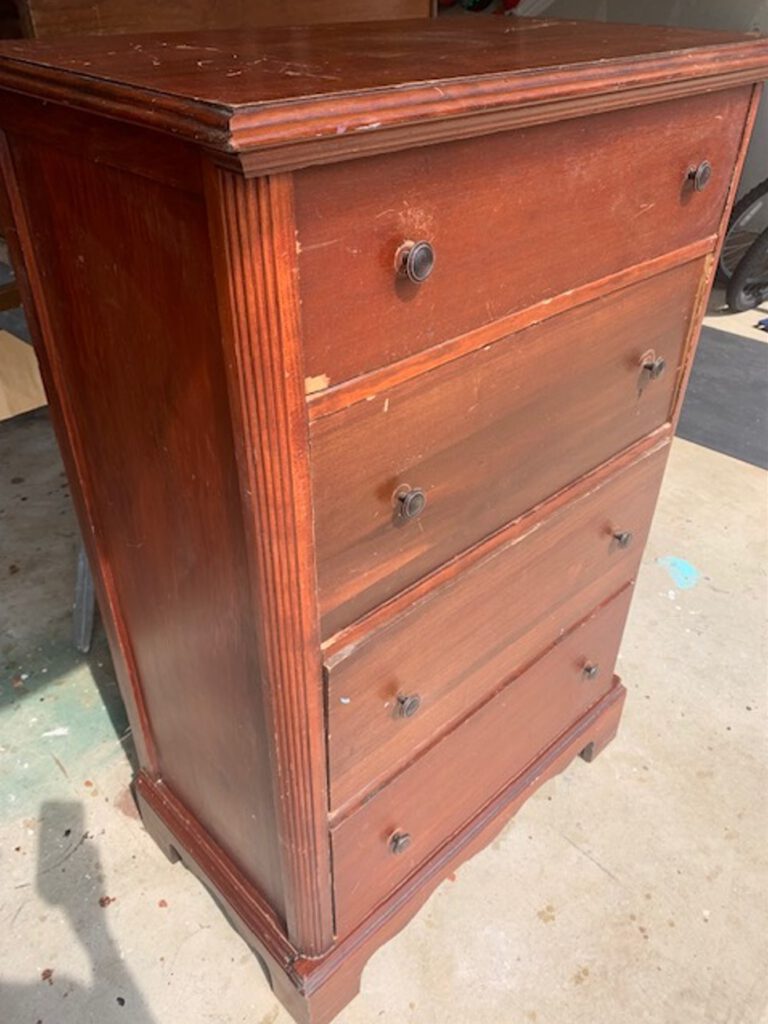 "So, it wasn't hard to come up with a name for this piece. Meet Thor. He was in rough shape, but structurally sound. I wanted to keep the wood, but the veneer was extremely thin and, with the various scratches and bumps, it made the most sense to fill, prime and paint him.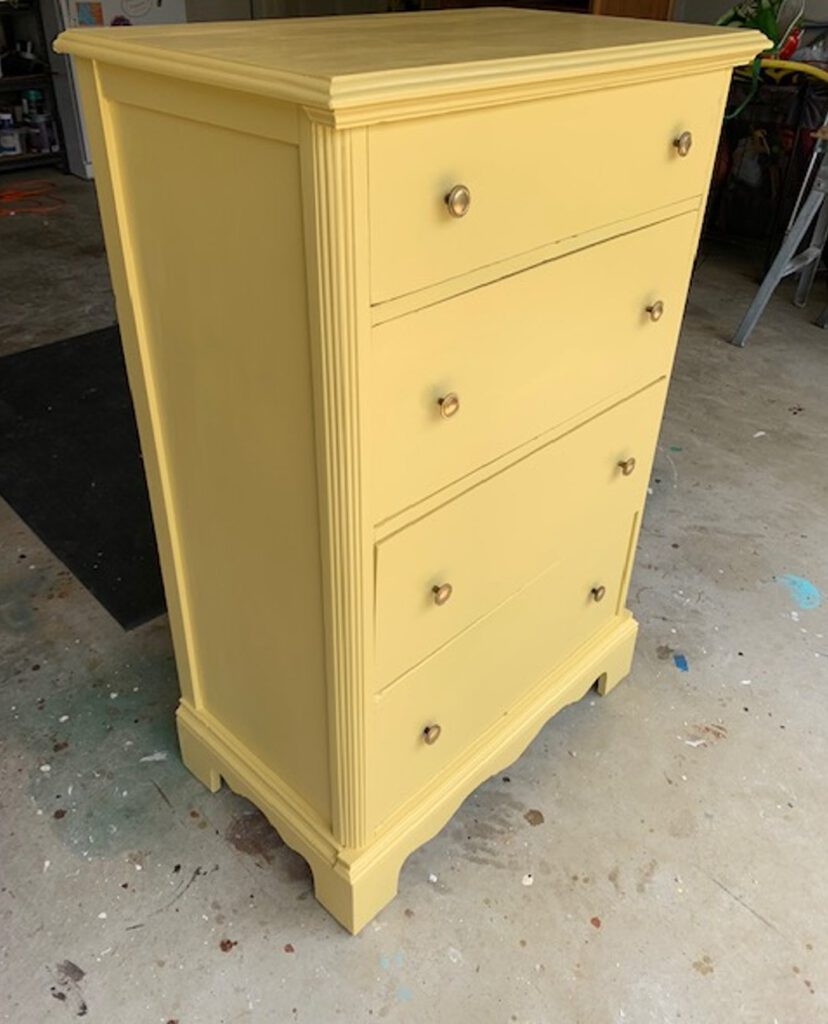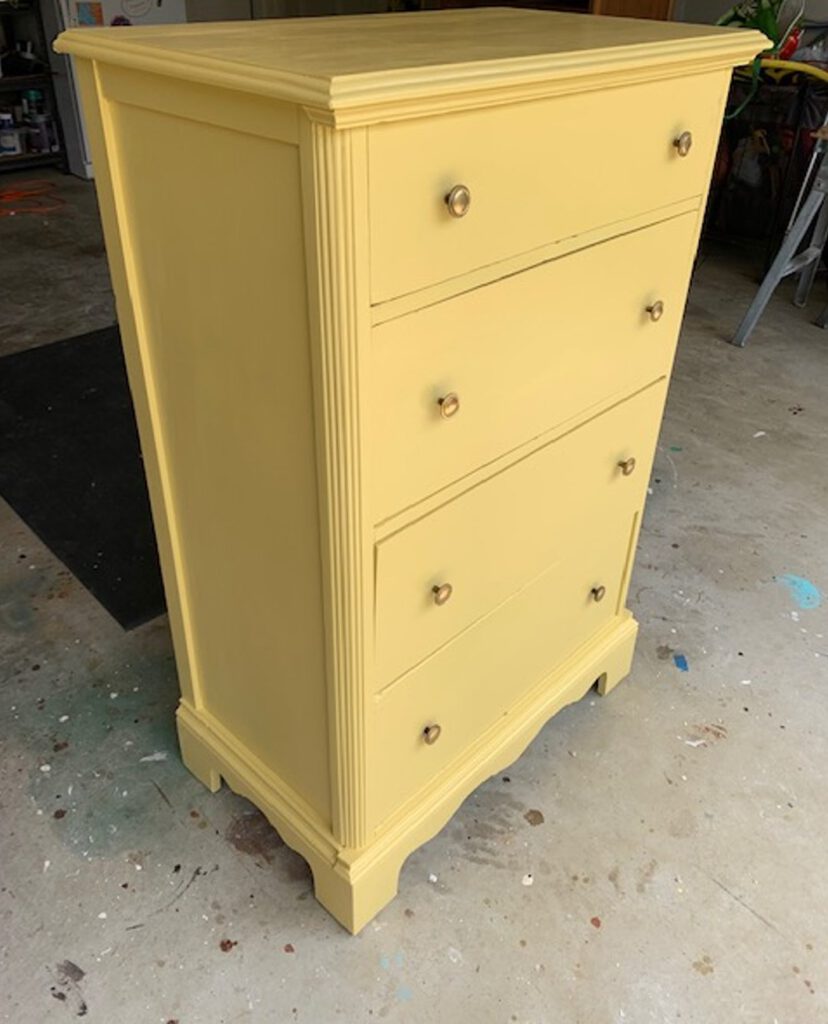 "Oops paint from Home Depot ($2) was used for Thor — I love his bright cheery color. I sprayed the knobs gold with paint I already had. Yes, he still has dings and bumps, but that gives him character."
To read the rest of the article and see more of Taylor's amazing before-and-after photos, click here and head over to the Ashburn Magazine website.