A new Pizza Hut is coming to southern Loudoun County — but don't expect the big sit-down restaurants with the iconic red roofs from the past. This is a 21st century Hut.
The new 1,900 s.f. Pizza Hut in the South Riding/Chantilly area will be a drive-thru, delivery and carry-out restaurant only. No dining room is planned.
New streamlined locations such as this — with its aptly named "Hut Lane" — is one of the ways the Pizza Hut brand responded to the pandemic — looking to reduce contact between customers and employees and help people get their food to-go more quickly.
The new Pizza Hut is coming to the small retail center formally called Community Corner. It's located on the southeast corner of Tall Cedars Parkway and Gum Spring Road.
That's the same center with an Exxon gas station and the Burn Boot Camp. The Pizza Hut will be built on a vacant piece of land next to the Burn Boot Camp.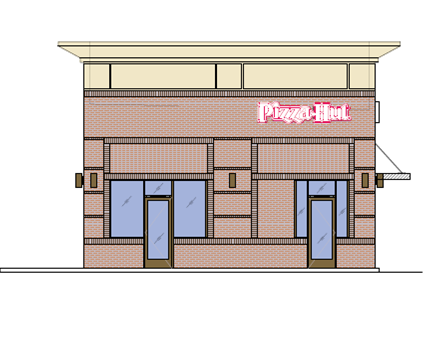 The building will actually have two retail spaces in it. The Pizza Hut will be on one side. So far, no word on what future tenant will take the other side.
There's also no firm timeline on when the new Pizza Hut will open. There's a lot of work to be done — from site plan approval, to permitting, to construction. to hiring a team, and outfitting the new store with furniture and fixtures. It could happen in 2023, but early 2024 is also a possibility. Stay tuned.
(Image at top: Pizza Hut)