The pop-up Alamo Drafthouse drive-in movie theater at One Loudoun in Ashburn held a practice night Sunday evening for friends, family and others in the Alamo orbit. It came a few days before the official opening to the general public this Thursday, August 27. The Burn got to attend and we can tell you — it's a great time.
Cars started showing up in the 7 p.m. hour — well before nightfall — for the 8:45 feature showing of the 1975 classic "Jaws." The drivers paused briefly at an entry tent on the way in where Alamo staff passed out instructions on parking and ordering food. Then, an army of staff holding illuminated orange batons guided them into the rows and numbered parking spots. Taller vehicles like trucks and SUVs park several rows back leaving the closer spots for cars with lower profiles. Spots are first come, first serve, but we walked around after the movie had started and sight lines looked pretty good everywhere.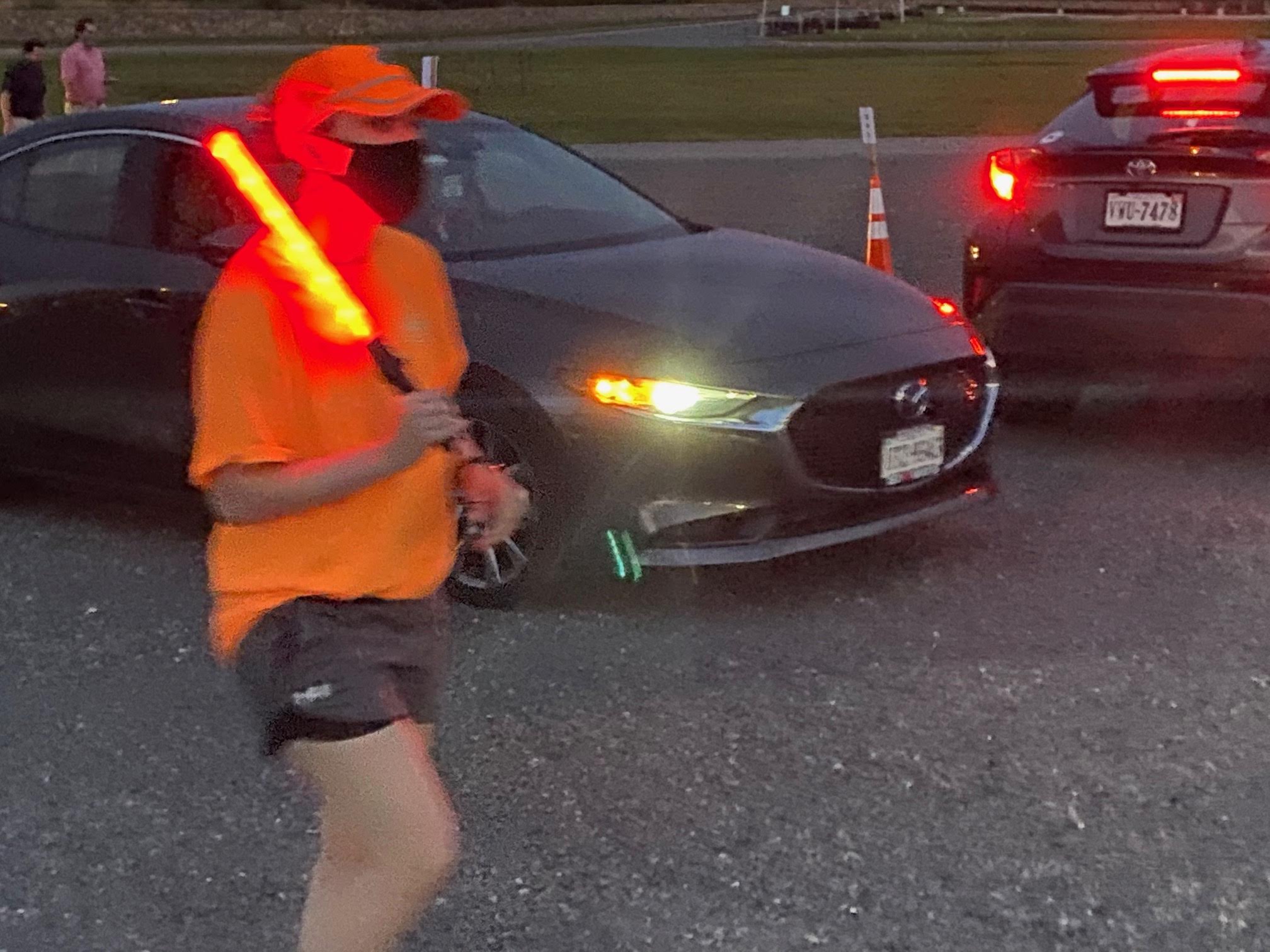 On a typical evening, guests would have already pre-ordered food and drinks online. When they arrive, they text the Alamo Kitchen that they are there and the food is brought out on golf carts, and then delivered to your car window. We believe there is also an option for ordering food on the spot — all the details are on the flyer passed out as you enter. (You can also get more info here.)
Prior to the movie starting, Alamo showed its traditional hokey clip fest of vintage move and TV clips that are themed to the night's show. For "Jaws," we were treated to clips from terrible foreign film rip-offs of "Jaws," as well trailers for "Jaws II" and "Jaws 3-D" ("The Third Dimension is Terror") and classics like 1971's "Blue Water, White Death."
Of course, everyone was masked when they weren't at their own car. There are Porta Pottys at the edge of the gravel lot, which include a light that comes on and illuminates the space in the dark, and a hand sanitizer dispenser.
Audio for the movie comes in over an FM radio channel in your vehicle. You can sit in your car to watch, but lots of folks were tailgating with folding chairs, or sitting in the "wayback" of their cars watching with the hatchback open. Others were sitting in the beds of their pick-ups. All in all, it was a nearly vintage drive-in experience.