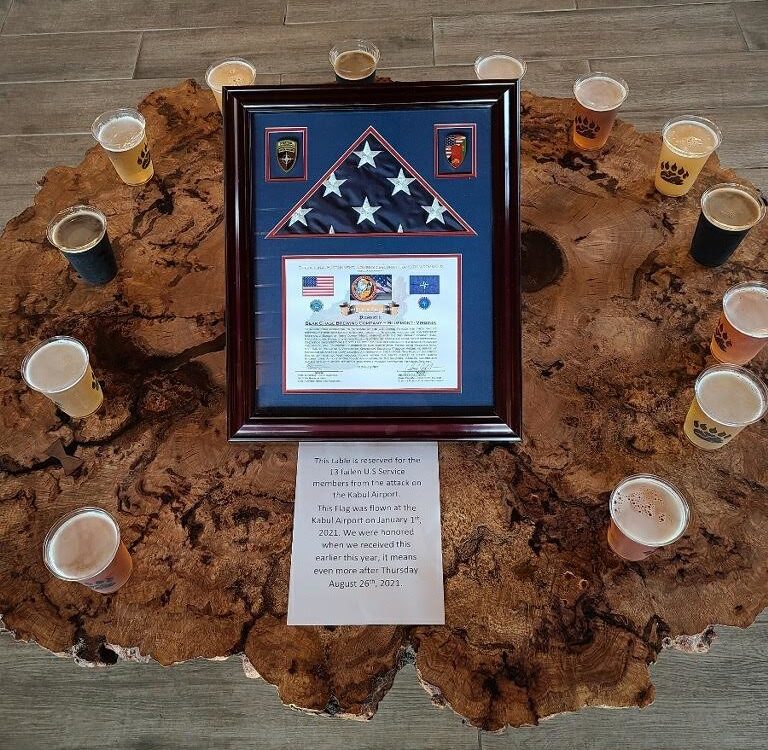 Bear Chase Brewing
MacDowell's Brew Kitchen
Bluemont Vineyard



People stopping in at some local taverns, breweries and even wineries this weekend may spot a heartfelt tribute to the 13 American soldiers who perished this week in Kabul, Afghanistan. Following a trend taking place around the country, a table is set up and 13 drinks are poured and left untouched — one for each of the servicemen and women.
Bear Chase Brewing poured 13 beers and placed them surrounding a folded flag that had flown over an American base in Kabul earlier this year. The flag was given to the Bluemont-based brewery west of Leesburg by a Gold Star father.
Meanwhile, MacDowell's Brew Kitchen, a beach bar/beer garden in Leesburg, also had a table set aside with 13 beers. On social media, they posted "Godspeed and we honor you for your sacrifice."
And the Bluemont Vineyard shared an image of a flag-draped table and 13 glasses of wine. "May we never forget that freedom isn't free," they wrote.
The movement is happening around the region and the country. 2 Silos Brewing in Manassas set up a table with 13 beers. So did a bar in Cleveland with a sign up that simply read: "Reserved." A brewery in Oconomowoc, Wisconsin did the same, and so did a brewery in New York and another in Georgia.
The Burn isn't a brewery or a winery, so we're not able to pay tribute to our fallen soldiers in the same way, but we do support TAPS, the Tragedy Assistance Program for Survivors, a non-profit that provides comfort, care and resources to those grieving the death of a military loved one. We made a donation in honor of the soldiers killed this week. If you would like to know more, you can visit the TAPS website here.