Surprising news out of the Dulles Town Center shopping mall, where the longtime food court tenant Chick-fil-A has closed.
The Chick-fil-A has been a part of the food court for more than two decades. So, many shoppers were surprised when a sign was posted on the unit saying that Saturday — December 31, 2022 — was its last day open.
The same announcement was posted to social media, where it read, in part: "Thank you for being our guest for the past 20+ years."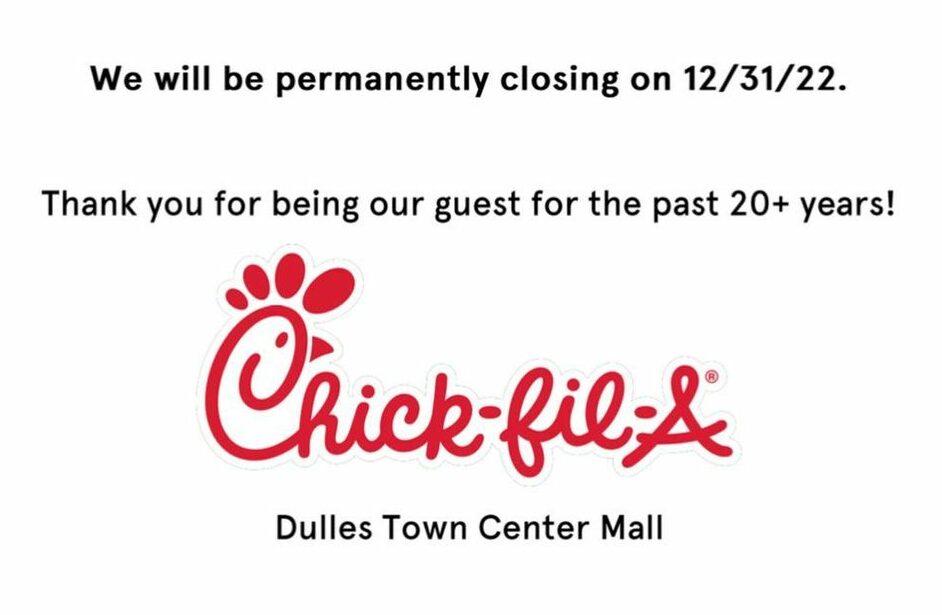 The news came the same week that the Chick-fil-A at the Fair Oaks Mall in Fairfax also closed. It opened in 2003 and Friday was its last day in business.
No word why both stores closed this week, although one can speculate that they had 10-year or 20-year leases — common lengths for a commercial lease — and that they both expired at the end of the year.
The food court at the Dulles Town Center has a couple of empty spots currently, but most of the restaurant spaces are full, including the new Yummy Shawarma, which opened this past fall, and a new place called Signature Burger Hotdogs and Wings.
Nevertheless, the loss of a major brand like Chick-fil-A has to sting.